120 AMP 13.8V DC BENCHTOP POWER SUPPLY
The SPS9620 DC power supply has been designed for professional applications which require quality high currentfor equipments such as super power car audio that are normally operated from twelve volt batteries.
The output is current limited at just over 120A and this current output can be supplied continuously.
The output voltage has Over Voltage Protection at about 17V to ensure very high protection against power supply failure , thus offering full protection to the powered equipment.
The excellent load regulation is further enhanced with remote sensing terminals to give precise voltage at thepoint of application for long connecting leads.
The output voltage range can be easily fine tuned between 12.6V to 14.3Vvia a concealed trimmer. This covers most 12V battery sources such as six lead –acid cells (13.8V) or ten nickel-cadmium cells (12.6V) and etc.
The excellent Dynamic Power Factor Correction (>0.9) reduces unnecessary power loss (cuts electricity cost in some countries) and cuts the noise and EMI to your power mains.
Features:
Output Over Voltage Protection at 16.5V Trimmer fine tune output voltage 12.6 to 14.3 V for 13.8 V nominal.
Constant Current Limiting Over Load Protection Shortcircuit and Over temperature Protection.
Green LED for power on/off indication
Red LED for overload / short circuit protection
Excellent line and load regulation.
Remote sensing terminal for precise voltage load with long leads.
Low ripple and noise
Cooling fan is on all the time, speed of fan increase with temperature of unit.
High efficiency 85%
CE Approval : EN55022,EN61000 , EN-55024 IEC 60950:1999+Corr.Jan.2000 , EN 60950:Corr.Feb.2002
Light weight and Compact: 11 Kg. , 23 W X 22 H x 34 D cm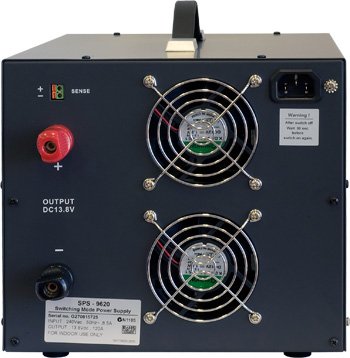 Specifications:
Output Voltage Fixed: 13.8VDC (Fine Tune 12.6-14.3VDC)
Rated Output Current: 120A
Ripple and Noise: 40mVp-p
Load Regulation (with sense): 0.1% + 5mV
Load Regulation (with no sense):0.1% + 5mV
Line Regulation: 0.05% + 3mV
Input Voltage: 230VAC / 50Hz (or on request)
Efficiency: >85%
Dynamic Power Factor Correction >0.97 at optimal load
Indicator: Green LED for power on/off indication, Red LED for overload/short circuit indication
Special Feature: Remote Sensing
Cooling Method: Variable Speed thermal static control fan
Operating Temperature: 0 -40°C
Protections: Overload (Constant Current Limiting), Short Circuit, Over temperature and OVP
Approvals: CE: EN60950 EN55022
Dimension (WxHxD): 235 x 218 x 345mm
Weight: 11Kg