mbeat ® 3A/15W Dual port USB and cigarette lighter charger features dual port USB design with 3A strong current output and two extra cigarette lighter expanders. The only few of products on the market with two USB ports that can charge 2 of digital devices with maximum 3A/15W power consumption simultaneously. Itcan power up a set of iphone and iPad, or a set of Samsung mobile and Samsung galaxy Tab on the go. The extra cigarettelighter expander can also power up extra digital devices such as a GPS, a music transmitter or USB fan. Product is well built with durability and flexibility. It also includesa free Velcro sticker, making attach or remove the device from your dashboard with ease.
Product features:
Dual port USB and car lighter design Fast-charging with 3A output current Support +5V powered digital device
Capable to work with12V or 24V vehicle
Include free Velcro sticker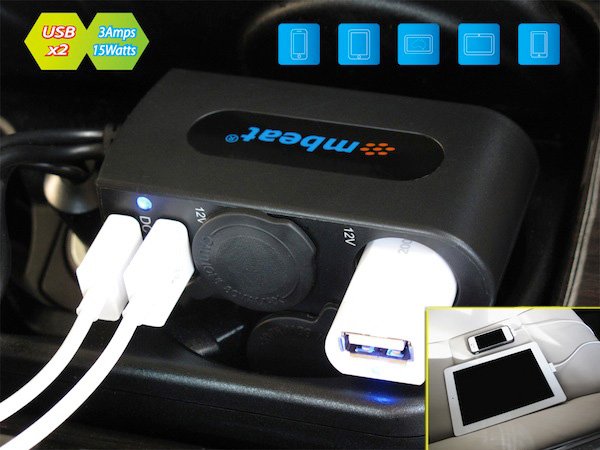 Charge up to two devices simultaneously, including tablets like the iPad and Samsung Galaxy Tab.
Product specifications:
Input voltage: DC 12V/24V
Output current: 5Amps (total)
USB output voltage: 5V
USB output current: Max . 3A (total)
Dimension (W x H x D): 86 x 42 x 28mm
Cable length: 900mm
Weight: 130g
Caution: Always check your device voltage and current specs before plugging in this charger. Turn off all the devices before starting or turning off engine to avoid over current. Maximum output current is 5A , do not overload device.