MTR150
ZONE2/ ZONE3 100V Converter
Put simply, the MTR150 converts your amplifiers speakeroutput to a 100V line.
Today most receivers are equipped with 7 amplifiers (7.1ch). 5 amplifiers and a subwoofer (.1ch) output are designated to the home theatre room. That leaves 2 channels to your second zone.
Often Zone2 and Zone3 outputs are restricted, such as:
Low impedance outputs
This results in shorter run cabling (less than 30m)
Cabling is expensive for most mid-range jobs
Output is in stereo
This means speakers have to be positioned to the left and right of the listener
We developed the MTR150 as the solution to these Zone2/Zone3 issues.
It converts the speaker output to 100V line allowing for:
Massive cable runs (100+ meters)
Daisy chain cabling
A cost-effective and easy solution
Mono output
Negating the need to position speakers on the left andright side of the listener.
No power required
The large torodial transformer draws the necessary powerfrom your audio source.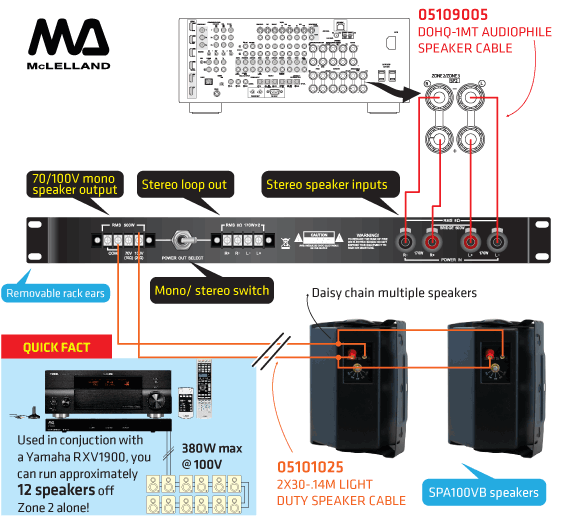 Features:
Housed in a rugged 1U metal chassis rack mount design
Internally mounted constant votage transformer
Selectable output mode between 70V/100V output and 8Ohm Output
Signal in, stereo out, 70V/100V out LED indicators
Input and output PTC over current protection
Input RF filter osillation protection
Rated input power:50W stereo per channel @ 8 Ohm,150W Bridge,mono 70V/100V output
THD+N:0.1% @ rated power