{tab features}
JOS-1FW includes JO-DVF - Stainless Steel Flush fitting camera
7 INCH TOUCH SCREEN HANDS-FREE VIDEO INTERCOM SYSTEM WITH SMART PHONE CONNECTION
JO Series with smartphone connectivity. Enhanced convenience and security for your home and office
Answer calls anywhere inside or outside your home- Handledeliveries when not at home - Open your door from anywhere
Simple Installation
Connect all units in the system with just 2 wires.
Automatic updates ensure you always have the latest functionality and security
Easy operation by 7-inch touch screen
Total hands-free communication
Zoom and wide screen
Video Recording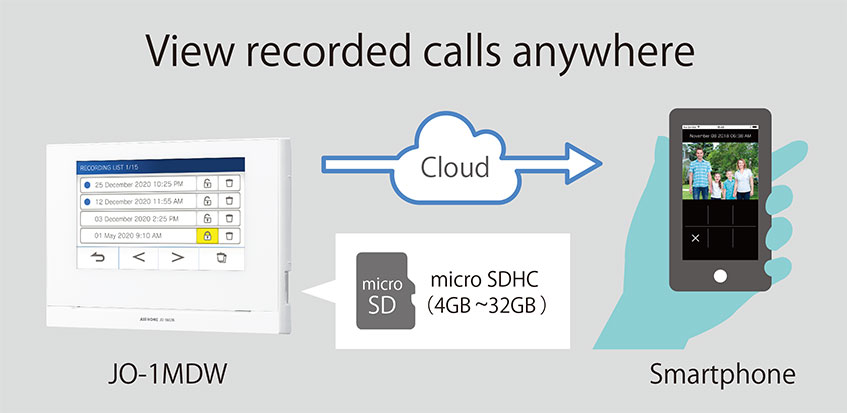 Record visitors even when not able to answer calls.
View the recordings from the master station or your smartphone.
Video memory
Internal memory :10 calls(max)
SD card :1,000 calls(max)
Touch screen operation micro SD micro SDHC (4GB~32GB)
Touch Screen Operation
Smartphone connection

Control whether calls are forwarded to mobile devices.

Notifications

Confirm system updates and other important notifications.

Play

Play and manage call recordings.

Monitor
Settings
Door release

Operate the electrie lock connected to the masterstation.

Option output

Control external devices connected to the master station.

Talk

Communicate with the door stations
System Configeration
Max system Configeration
1 x Door - 2 x Room - 8 x Smartphone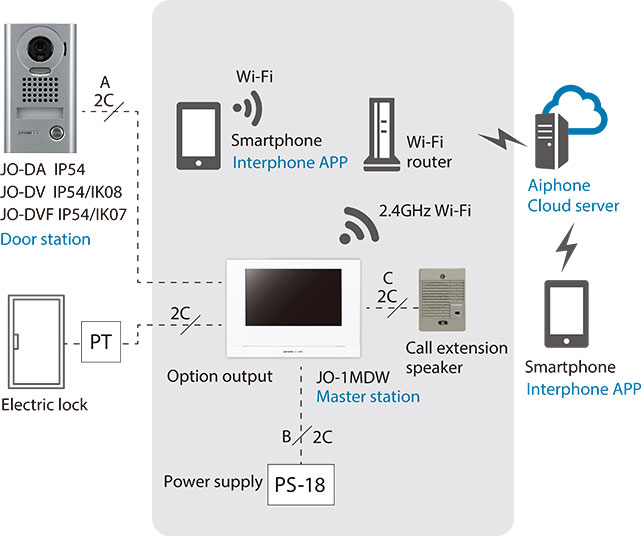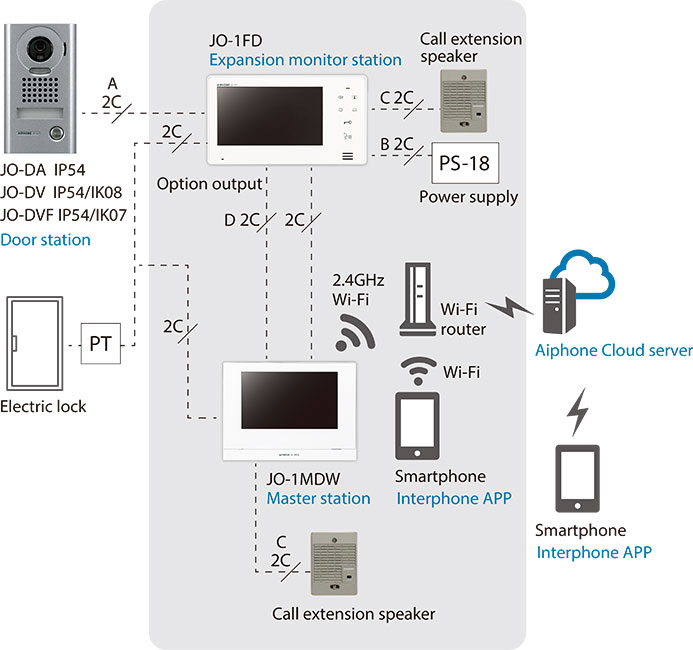 Optional second wired Room station - JO-1FD can also be installed ( Note requires 2 x 2 core cable )
Door Station Options
Select from 3 different styles.
All options can handle tough weather conditions. .
JO-DA - Plastic surface mount camera
IP54 - Dust and moisture resistant
Nighttime LED
JO-DV - Vandal resistant metal surface mount camera
IP54 - Dust and moisture resistant
Ruggedized against vandalism
ZINC material
Nighttime LED
JO-DVF - Stainless Steel Flush fitting camera
IP54 Dust and moisture resistant
Ruggedized against vandalism
STAINLESS STEEL material
Nighttime LED
Smartphone Application provides connectivity everywhere
Have the functionality of the master station in your pocket
Answer calls from the door station.
Monitor the door station.
Operate electric locks while answering a call
Control external devices while answering a call
Switch between speakerphone mode and telephone mode asnecessary
Zoom in and zoom out functions.
Connect your smartphone in 3 simple steps
1 Install application
INTERCOM APP TypeB (iOS) INTERCOM APP TypeB (Android)
2 Register with master station
Register by using a one-time password. PASSWORD 1234PASSWORD 1234
No need to provide email or other personal details
3 Done
Wi-Fi master station Smartphone or Tablet Have the functionality of the master station in your pocket
Compatible with existing JO series
{tab specifications}
JO-1MDW
| | |
| --- | --- |
| | 18V DC, Supplied from a power supply |
| | 450mA(max.) 80mA(standby.) |
| | 7'' TFT LCD touch screen |
| | 800×480 (approx.384,000 pixels) |
| | Open voice hands-free auto-voice actuation or Touch-to-talk communication |
| | 0-40 degrees Centigrade |
| | IEEE802.11b/g/n |
| | Internal memory: 10 calls(max.) (10 seconds/call) SD card: 1,000 calls(max.)(10 seconds/call) |
| | Internal memory: 5 calls(max.) micro SDHC card: 100calls(max.) |
| | micro SDHC card: 4GB-32GB |
| | 24V AC/DC, 1A (N/O dry closure contact) |
| | 24V AC/DC, 1A (N/O dry closure contact) |
| | Surface wall mount |
| | Unit case: Self-extinguishing PC + ABS resin Surface panel: Glass |
| | Approx.620g |
JO-DA
| | |
| --- | --- |
| | Supplied from Master monitor station or Expansion monitor station |
| | Open voice hands-free communication |
| | 1/4 inch color CMOS |
| | -20~+60°C(-4~+140°F) |
| | Surface wall mount |
| | Self-extinguishing PC + ABS plastic |
| | Approx.200g |
| | IP54 |
| | - |
JO-DV
| | |
| --- | --- |
| | Supplied from Master monitor station or Expansion monitor station |
| | Open voice hands-free communication |
| | 1/4 inch color CMOS |
| | -20~+60°C(-4~+140°F) |
| | Surface wall mount |
| | Front panel: Zinc die cast. Main unit:Self-extinguishing PC + ABS resin |
| | Approx.200g |
| | IP54 |
| | IK08 |
JO-DVF
| | |
| --- | --- |
| | Supplied from Master monitor station or Expansion monitor station |
| | Open voice hands-free communication |
| | 1/4 inch color CMOS |
| | -20~+60°C(-4~+140°F) |
| | Flush mount (Mounts on built-in back box) |
| | Front panel: Stainless steel. Main unit: Self-extinguishing PC + ABS resin |
| | Approx.200g |
| | IP54 |
| | IK07 |
{/tabs}