{tab Features}
LOG-PERIODIC AERIALS WITH F CONNECTOR - FRACARRO
Since 1933 Gruppo Fracarro has been offering its customers high quality products and solutions renowned for its innovation and technology. To expand into the international market, along with Fracarro Iberica S.A., new companies have been established, as Fracarro France, Fracarro (UK) Ltd and Fracarro Portugal.With a Fracarro agency in Thailand and a network ofdistributors worldwide, Fracarro is now even closer to the market.
As a market leader in the reception and distribution of audio-videodata signals and security, Fracarro is able to provide comprehensive information and assistance worldwide. It also offers professional assistance for pre/post sales, technical training and manuals to continually update information and professional growth, as well as creating software for project designs.
Fracarro Log Periodic antennas are now shipping with professional F connector fittings. A unique connector protection boot, an injection moulded F fitting and a new nose cone assembly are making the new LP345F, LP34F, and LP45F instant successes.
Fracarro's main goal has always been to achieve the highest quality and performance on the products and services they supply. Fracarro Radioindustrie S.p.A. has been successful in achieving this with the Fracarro Quality System being officially recognized on an international level with ISO9001 certification. This certification confirms Fracarro products are highly reliable, and that they have a modern, efficient and professional sales organization.
FEATURES:
Maximum mast diameter: 60mm.
For assembly in vertical or horizontal position without additional accessories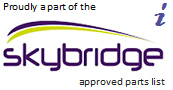 Skybridge has awarded the Melbourne Metro Digital Switchover (under the Household Assistance Scheme and Satellite Subsidy Scheme) to be completed by early 2014. It is estimated that more than 70,000 customers will opt-in to this program by December 2013 (May '13 Awarded Melb Switchover Scheme, viewed on July 29 2013, click to view more information).
{tab Specifications}
Item code
Band
Bandwidth
(MHz)
Gain
(dB)
Front-to-back ratio
> dB
V.S.W.R.
<
Dimensions
Wind load at 120km/h
(Kg)
Packaging
boom
(cm)
elem.
(cm)
(pcs)
(kg)
LP345F
3+ UHF
174 - 230
470 - 900
9.0
9.0
21
27
1.5
1.8
115
86
3.9
20
19.6
LP45F
UHF
470 - 900
10
28
1.7
99
32
3
20
15
LP34F
3+ 4
174 - 230
470 - 606
7
9
19
23
1.5
115
86
2.8
20
19.6
{/tabs}